Ceramic tile is a unique combination of beauty and durability. Its hard and non-porous surface provides low maintenance to its owners.
Once installed, and depending on the type of tile, you usually have to do nothing more than dust and damp mop it to keep it beautiful.
A unique system of innovative chemical technologies specifically designed for superior protection, care and maintenance of natural stone, ceramic tile, grout and masonry surfaces.
Steam Canada, who has been committed to providing quality carpet and upholstery care for the past 40 years, now offers ceramic cleaning and hard surface care. Steam Canada's well trained staff can safely and effectively clean and seal your tile, grout and natural stone surfaces. By sealing your tile and grout it will easily repel virtually any water and oil based stains.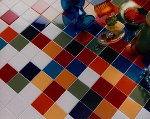 We can make your tile and grout look new again and we'll show you how to keep it that way.