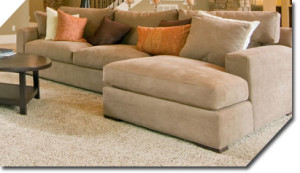 Steam Canada will help you gain back the original look of your upholstery furniture. With over 40 years of experience, we have a great knowledge with all fabric types and we use the best methods when it comes to upholstery cleaning.
Upholstery cleaning can be as simple as a favorite cushion or that delicate tapestry that has been in the family for generations. Our technicians take regular training to be certified and the best that they can be.
When we clean the interior seats and carpets in your vehicle, we come to you or you can drop your vehicle off at our warehouse and pick it up when we are finished – the choice is yours.
Please note:
Upholstery should be pre-vacuumed before we clean.
There may be an extra charge for heavily soiled areas, moving excessive furniture, extra cushions, etc.
Approximately 80% of upholstery can be steam cleaned.
Book Service