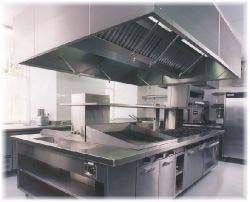 Restaurant hood cleaning is a very important aspect of restaurant upkeep. When grease builds up in the hoods, one spark from a grill or stove top can cause a fire to start and spread within seconds. Many Insurance companies require regular hood cleaning before they will issue an insurance policy against fire damage.
Restaurant owners can often lower their insurance premiums by having the hoods cleaned on a regular basis.
Steam Canada offers our customers a full hood cleaning service. We clean the hood interior, the shaft as far as we can reach, and the fan unit on the roof. As with all of our services, we offer a 100% guarantee of workmanship. Even if we are flood restoration cleaning or fire restoration cleaning, we can get the job done right. We can even supply you with cleaning supplies to upkeep your hoods on a regular basis.
Kitchen hoods, ducts and filters to the new NFPA standard? It is now MANDATORY according to the Fire Protection and Prevention Act. Steam Canada can help you! We clean to the NFPA '96 standard.
NFPA '96:
2.6.1.13. Commercial cooking equipment exhaust and fire protection systems shall be maintained in conformance with NFPA '96, "Standard for Ventilation Control and Fire Protection of Commercial Cooking Operations." Systems serving moderate volume cooking operations must be cleaned every 6 months.
Book Service